Why February is the Most Popular Election Month for School District Tax Measures
Last updated: May 24th, 2023
Contents
Summary
Chart of the historical number of school district measures by election month
Possible contributing factors why school districts prefer February
School districts that have only or generally run their tax measures in November
School districts that have only run their tax measures in February
Sortable table of the number of school district measures by election month data for all school districts
Sources
---
Summary
Washington State's school districts have the option of running their tax measures on any one of the possible elections in a given year: February, April, August (Primary), or November (General). They can only run their measures twice in 1 calendar year if it should fail in their first attempt. This report summarizes the school district tax measures (bonds and levies) that were on the ballot for the time span of 2010 through 2023 (4/25/23).
Note that Washington has 295 traditional public school districts and 18 public charter schools. Public charter schools do not run levies or bonds.
Prior to July of 2011, school districts could rerun their failed levies and/or run bonds in the month of May. That additional special election option was eliminated by state legislators.
---
Chart of the historical number of school district measures by election month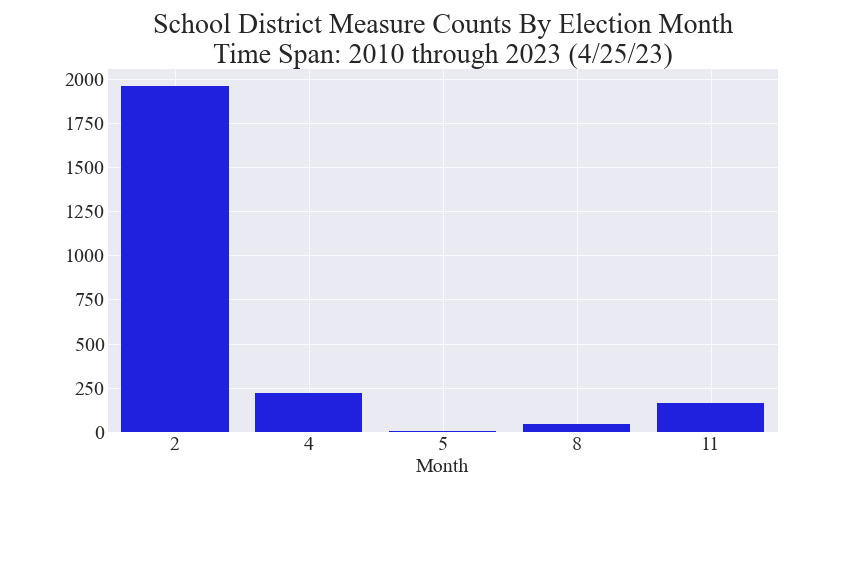 | Month | Count |
| --- | --- |
| Feb | 1956 |
| Apr | 218 |
| May | 4 |
| Aug | 45 |
| Nov | 165 |
---
Possible contributing factors why school districts prefer February
February is the lowest voter turnout month of the year for the general public (usually less than 33%).
School district staff voter turnout is high (70-85%). It can affect the percent approval of their measures by 2-4 percentage points.
Pro/con committee members for the voters' pamphlet must volunteer before mid December. However, in December, most citizens are unaware of tax measures that will be on the February election and are focusing on the holidays.
Citizens have little to no facts on the tax measures and are unaware of the pro/con committee volunteer December due date. These tax measures for each district only occur every 3 to 4 years. Most citizens are surprised when a ballot appears in their mailbox 2 weeks before the February election date.
By statute, school districts are supposed to find and select pro and con committee members for their own measures. They readily find pro committee members (often paid staff) but rarely find con committee members. Up to 3 people are supposed to be on each committee - not just 1.
County election reps are supposed to try to find con committee members when districts fail in their duty.
County election reps only have a day or two to find con committee members and they usually fail.
Consequently, the voters' pamphlets usually have a one-sided debate with only a pro statement published.
Prior to 2022, school districts had the option of allowing a voters' pamphlet (for their own measures) for the February and April elections. Most school districts opted to not allow them. The law changed as of 2022. Now all elections must have a voters' pamphlet. The August and November elections have always had required voters' pamphlets.
Property tax bills for the current year won't be received by citizens until a day or two after the February election.
Federal Income Tax filings are not until April.
School district consultants advise their clients that school district tax measures, statistically, are more successful in February.
The added expense to districts (taxpayers) of running measures in February or April (when their measure is usually the only one on the ballot) does not seem to be an obstacle.
---
School districts that have only or generally run their tax measures in November (typically the highest voter turnout month)
Inchelium SD (~200 students) ran all 4 of their measures in November for the time span under study.
Eastmont SD (6,000+ students) ran 6 of their 7 measures in November.
Benge SD (~10 students) ran 4 of their 7 measures in November.
Highline SD (18,000+ students) ran 5 of their 9 measures in November.
---
School districts that have only run their tax measures in February
There are 94 school districts that have only run their measures in February over the 13 year time span in this study.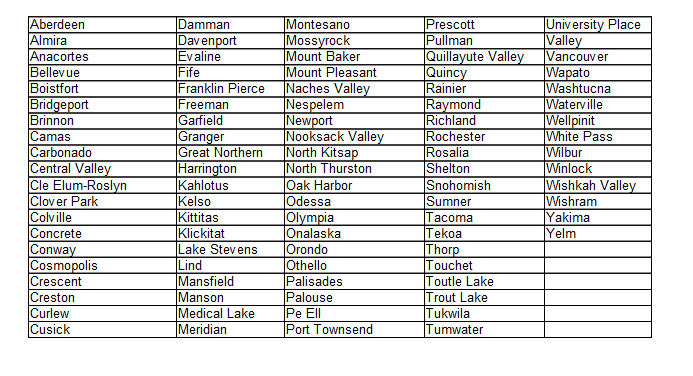 ---
Sortable table of the number of school district measures by election month data for all school districts
---
Sources
The OSPI for the February 2010 through November 2022 school district measure data
Washington's Office of the Secretary of State for the February 2022 through April 2023 school district measure data
---