School Levies April 27th 2021
Contents
Summary
Summary table
Taxpayer cost example for the Edmonds SD's capital levy
Sources
---
Summary
For the April 27th, 2021 special election:
There were 11 school district measures from 11 school districts from 8 counties.
9 of the measures were Enhancement Levies advertised as EP&O Replacement Levies.
1 measure, from the Orcas Island SD, was advertised as a Replacement Capital Projects / Technology Levy.
1 measure, from the Edmonds SD, was a Capital Projects Levy for new building construction and building maintenance. This was the largest levy this election at $180M.
10 of the school districts did not allow pro/con arguments for a voters' guide or pamphlet.
1 school district (Orcas Island SD) allowed pro/con arguments for the voters' pamphlet - but only pro arguments were assembled.
1 county (San Juan), out of the 8 counties with school measures, created a voters' pamphlet. Voters' pamphlets usually have both pro and con arguments and rebuttals for each measure. San Juan County was only able to gather pro arguments for all of its measures.
San Juan County Voters' Pamphlet for the April 27th 2021 Election
While the San Juan County Elections Office created a pdf Voters' Pamphlet for their website, they did not mail it to their voters. San Juan County only mails a voters' pamphlet to voters during the primary and general elections in August and November.
---
Summary table

---
Taxpayer cost example for the Edmonds SD's capital levy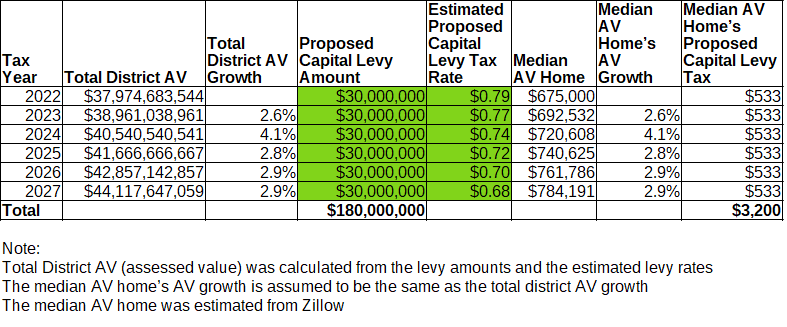 ---
Sources
Levy amounts and levy rates were obtained from current election and previous election sample ballots from each respective county elections department.
---